The President of the Government, Pedro Sánchez, has been confident this Saturday that it will be possible to start the vaccination of ESO and Baccalaureate students two weeks before the next course begins in September. Sánchez has announced, in an act of gratitude to the educational community, that the vaccination of minors within that period will be possible if the authorizations of the European Medicines Agency (EMA) are fulfilled: "It will be a decisive step for the long-awaited recovery of academic and social normality ".
Sánchez has described the response of the education system to the pandemic with "honors": "Spain has been one of the few countries in the world that has kept its schools open throughout the course. It has not been easy, but, among all of us, we have been able to exceed the best expectations, and to be at the forefront of the countries that have worked the most to minimize the impact of the pandemic in education. " 99.8% of the classrooms have functioned normally this year and only three schools, out of more than 29,000, have had to close, according to the Government.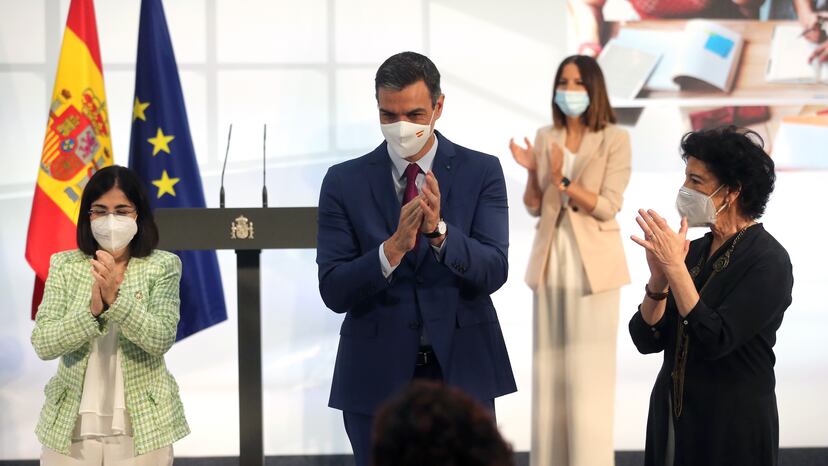 The Minister of Health, Carolina Darias (left); The President of the Government, Pedro Sánchez, and the Minister of Education, Isabel Celaá, applaud during the act of tribute to the educational community, in La Moncloa, this Saturday. On video, Sánchez announces that the students will be vaccinated before school starts.POOL | VIDEO: EUROPE PRESS
In the act of tribute, which took place in La Moncloa, the Minister of Education and Vocational Training, Isabel Celaá; the Minister of Health, Carolina Darias, and different representatives from the field of education. In his speech, Sánchez insisted that an "exemplary response" was obtained to the fact that more than eight million students and 700,000 non-university teachers had to face telematics education the previous year with confinement.
In his speech, Celaá, highlighted the "extraordinary effort" that Spanish society has made this past year to "safeguard" education, which is the "main engine of personal and social change", while being proud of professionals in the education sector, "who deserve the highest social recognition and our deep gratitude." The minister has described as "collective success" the decision taken in May 2020, endorsed by the autonomous communities, not to close the schools again after three months closed due to confinement during the pandemic. Celaá has had words for the educational community: "the teachers have been brave and generous; the students, disciplined in complying with the sanitary measures, and the families have physically and morally supported our efforts ".
Almost 14 million people (13,939,564) had the complete vaccination schedule in Spain on Friday, June 18. With a single dose, the number of vaccinated people rises to 22,684,911. The Government's objective is that in the week of July 19, 25 million people will be vaccinated with the full schedule.