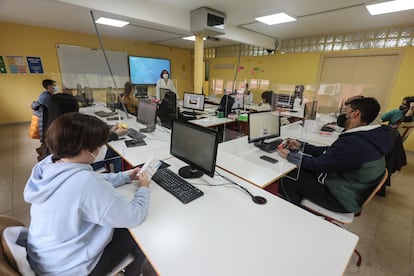 The Ministry of Education is justifying the new curricular changes by pointing out that school learning is currently based on the memorization of data on encyclopedic content. Faced with this diagnosis, he opposes work by areas of knowledge as an intended solution, ensuring that in this way basic skills are worked much better. It is surprising that this laudable wish does not have a solid empirical basis to support it. In the Community of Valencia, this course is already mandatory to reduce the subjects in the first year of ESO from 11 to 8 and many institutes have merged mathematics, biology and technology in the so-called scientific-technological field.
In this context, the scientific-technological field basically includes the STEM (science, technology, engineering and mathematics) movement promoted in the United States thirty years ago. This acronym, understood as the integration of these subjects, has become an alternative proposal to current teaching.
There are many studies that point to the theoretical shortcomings and methodological shortcomings of the STEM movement, as well as the absence of empirical evidence to support the presumed efficacy of this disciplinary fusion. Prestigious researchers in science teaching warn that all this seriously conditions both its viability and its possible effectiveness. It is highly debatable whether this disciplinary integration can be carried out in practice. Each discipline has specifically hierarchical structuring concepts that require unique presentations and construction processes, which are blurred with this new way of working. As a result, STEM integration causes a significant devaluation of science and math instruction. The loss of disciplinary organization, as well as the associated casual selection of content, produce dispersed, unconnected and meaningless learning in students, with the generation of important gaps.
Another highly debatable aspect is the STEM assessment. This process becomes extremely complex with this new methodology. For example, what specific weight should each subject have when evaluating students in the field? Different analyzes show the preponderant role of technology in this disciplinary unification, since it is what allows to give the field its practical dimension by allowing the configuration of different artifacts. Would group construction of one of these designs in itself suffice to get a positive evaluation? How, then, would each student have evaluated the handling of abstract concepts and models, the capacity for argumentation and inquiry, the interpretation and handling of symbolic language or the ability to solve problems, among other important aspects? Would all matters be equally attended or represented? Is this intended to covertly lower the requirement parameters to deceptively reduce the percentage of negative evaluations?
Another very striking circumstance is that there are no specific STEM teachers. Currently, initial teacher training is divided into different specialties. Furthermore, there are no specific STEM integration permanent training plans. Each secondary school teacher only has didactic knowledge of the discipline in which he is a specialist, but lacks the necessary resources and approaches to help and guide the students in learning the other subjects. Therefore, the normative implementation of integrative work by areas, without a rigorous and reflective theoretical-practical plan for teacher training in the long term on the weaknesses and possible strengths of this unification of subjects is doomed to the most absolute failure.
Juan Quílez Pardo He is a professor of Physics and Chemistry at the Lluís Vives IES in Valencia.
You can follow EL PAÍS EDUCACIÓN at Facebook Y Twitter, or sign up here to receive our weekly newsletter.