The writer Ernesto Pérez Zúñiga was stunned last Saturday when he read the article on the cases of abuse among the Marists in EL PAÍS. One of the testimonies, that of Manuel Garach Gómez, from Granada, told exactly the same thing that had happened to him: a teacher, Guillermo García, alias Willy, had abused him in the eighties and, after learning that he was still in school, had reported him to the management in 2010, but they did nothing. The teacher has remained at the center until a few years ago. But it is that the picture that emerges now is even worse. Pérez Zúñiga affirms that he already denounced him to the Marists long before, in 1988, and they also ignored him: "The school has covered and protected a pedophile for 30 years."
Spokesmen for the Mediterranean province of Marists, to which the Granada college belongs, assure that they had no record of the complaint: "Up to this moment we had no knowledge whatsoever (…) at the provincial level." "In any case, and as we do with each new information we receive of this type, we begin a process to verify it with the ultimate goal, as always, of being able to contribute to the restorative justice that is sought for any victim," they explain. The order, on the other hand, refuses to clarify until what year Professor Guillermo García has been at the school. The Marists have opened an investigation since last June on 35 brothers accused of abuse since the 1950s, as a result of the information of numerous victims that EL PAÍS has given them.
Pérez Zúñiga, 49, already told his story in 2018 in his novel Frost (Galaxia Gutenberg, 2018), without citing the name of the center, although in Granada everyone knew it, also because in 2019 he wrote an article with an explicit complaint in EL PAÍS Semanal. "A scandal broke out around the school, but nothing happened," he recalls. His story describes, as has happened in other cases, the impact of a modern and friendly teacher who dazzled the boys. "In a traditional environment like school he was a charming guy, he made us feel like adults, we were a group of friends in which he became the leader, in a kind of climate Dead poets societyIt's just that Robin Williams' character turns out to be a pedophile ". One of his classmates, JARA, says that he will never forget the first day of class with this music teacher in the sixth year of EGB: "He entered class doing a cartwheel, doing silly things, he was very empathetic with the children". He also claims that he was a victim of Willy, and claims to know at least nine other people, just from his time.
He was the most dynamic teacher in the school, he organized a choir, he made a montage of Jesus Christ Superstar that was represented for years in Granada. Pérez Zúñiga recalls: "We were 13 years old, we would meet him in a bar, we would play table football, we would have a beer. He would take us camping, on weekends we would go to his house, in an urbanization on the outskirts, to have parties, you could invite your girlfriend, we would stay to sleep. Of course, you told your parents that you went to the teacher and they trusted. He was very smart, he was selecting, according to who he liked and he became friends with his parents ". He also organized weekend camping trips in houses he rented in towns in the Alpujarra, such as Tocón de Quéntar (with this name the students made jokes), Moclín and Ferreirola. "When we stayed at his house to sleep, he slept with us. He got in the way. He was going step by step, he was creating the climate for his attack at night, which is what happened to me. He did it in a moment of weakness, that he had problems at home, and he knew it. He told my mother to let me go for the weekend, to forget a bit. In the middle of the night he began to put his hand on me, I froze. In the end I stopped him ".
His friend JARA tells the same thing: "It was while camping in a house. He slept next to me and in the middle of the night I woke up and he was touching me. I was paralyzed. It lasted a few minutes and then he put my hand on his parts, but then I turned around and pretended to be asleep, and he didn't continue ". On Monday, back to class, the teacher asked him to meet later to talk. They went to a bar: "He told me what had happened that night and that he thought I liked it, let's see if I followed his game, but I told him that I didn't remember anything and that I didn't. He told me not to tell anyone ". Anyway, it happened a second time.
Looking back, Pérez Zúñiga reflects on the confusion into which a minor falls: "Being someone you admire, on the one hand, you feel chosen, proud, but at the same time you know that it is an attack, you feel a betrayal. You go from guilt to understanding. You try to forget, you feel ashamed, it becomes an ominous secret ". JARA explains that she avoided him but couldn't get away from him because it meant withdrawing from her group of friends.
"The school knew it"
The two friends went as monitors to the Ademar association school camps. "There, speaking with each other, many confessions came out, many people had had similar experiences." In one camp there was a kind of riot of the kids, who began to think about filing a complaint. According to both friends, the professor threatened to send them his lawyers and the idea did not prosper. Ernesto decided to go tell it at school in the summer of 1988, when he was already leaving the center and going to start university. "I spoke with the director, Eliseo, in his office, I told him everything and he told me, I remember perfectly: 'Don't worry, we are going to take care of this.' And I left with a clear conscience ". He learned that the camps were suspended and he had been set aside. JARA, who remained linked to the school for a few more years as a monitor, also commented on this to several teachers. "The school knew it," he says.
Pérez Zúñiga finished his studies in Philology, in 1994, he posted resumes in various schools and they just called him his, for a replacement: "I'm going and to my surprise I find him there, he was still there." He was only there for two days because, strangely, they later told him that there had been an error and they already had another person. A long time later he learned that Willy had maneuvered to kick him out. The camps also resumed.
Years later, the writer met two teachers from the school in a bar in Granada. Confidently, he asked them how they could continue to protect this teacher. "They answered me: 'He is a sick man who needs Christian compassion.' And they invited me to go see him and talk to him, which would be very good for him ". What Ernesto finally did in 2018 was turn the story into his novel. This is what he was also advised by the Ministry of Education of the Junta de Andalucía and an association to help victims, when he called in 2012 to inform them of the case and they discouraged him: "They told me that without evidence and with everything prescribed better than me. forget. I was desperate because I couldn't do anything and I told them I was thinking of writing a novel. 'Well, it's the best you can do', they told me ".
"We always caught him with a little boy sitting on him"
In Bilbao, the actor Adolfo Fernández also froze when he saw in the newspaper the photo of his basketball coach in the Marists, Brother Esteban Villalba, nicknamed El Pelamingas. "He was a predator that roamed at ease for years, completely covered up by the school, everyone was silent," he recalls. EL PAÍS published the testimony of three former students from two schools in Bizkaia where Brother Esteban passed, El Salvador de Bilbao and the Jado de Erandio Foundation. In the case of this interpreter, in the 1968-1969 academic year, when he was 10 or 11 years old, he approached him on the stairs of the center: "I was going down, he came towards me and put his hand under my pants, on my testicles, I remember his frozen hand. I must have put on such a terrified face that the following week he summoned the team and made me captain. The captain was supposed to be the best, and I wasn't, but that's how he wanted to silence me ".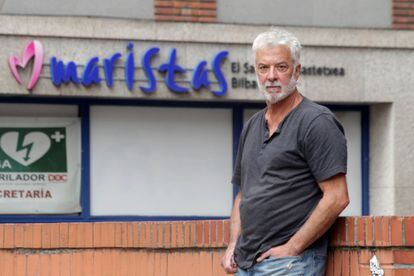 Fernández remembers that every time they entered class, he was there: "We always caught him with a little boy sitting on him. It was his daily exercise, cornering a kid and putting his hand on him, rubbing him. He was a tireless predator, he lived for that. He had four or five favorites, I could tell you the names, and we knew he came from other schools where he had had problems. We children knew that, so imagine the adults ". Remember that in that environment of permissiveness there were also many rumors about what happened in the downtown pools, in swimming classes. "We were very helpless children."
Another former student of the Bilbao Marists located by EL PAÍS is Gorka Totorika, who assures that at the age of 11 he also suffered abuse from Villalba. In his class, from the generation of '68, they called him The tocaniños. "I knew who to do it to. He didn't even touch the troublemakers and basketball players. To me, in particular, he would call me to his table, take my hand and rub it on his erect penis. I have etched how I looked at you with those blue eyes while I did it. It got really red … up to the ears. It was pure perversion, "he says. Totorika emphasizes that the fame of this teacher was known to teachers and students, and he keeps repeating a phrase: "Today he would be in jail."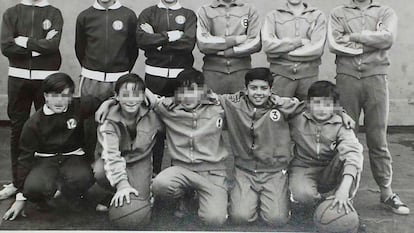 Two other people have written to the email enabled by EL PAÍS and corroborate the accusations at the San José de León school against brother Juan José, Tomato, and Antonio María, El Pilila, the head of the infirmary. One of them, who does not want to be identified, relates: "I remember Tomato reaching into me. I think my parents were among the first couples to separate from school, at least from my class, I must have been 10 or 11 years old, Brother Juan José seemed to feel empathy or pity for the situation and asked me on a couple of occasions that I stayed at the end of the class, he seemed compassionate but he would grab me by the ass, spank me and press me against him and his crotch. My character changed, I couldn't say anything and I dropped out of school after finishing eighth grade in EGB. It was a horrible time until I left the center. It is the first time I have commented on this, never before, to anyone ".
The other former student, who remembers touching the two of them, admits that reading the news has been traumatic. "Everything had been stored as a blurry memory in my mind until I reread the modus operandi of these two men. I have spent my whole life believing that they were false memories, or that they never happened, perhaps as a mental defense. As a child I told it at home, but they did not believe me. Jokes and jokes were made among the inmates about almost all of them. (…) It was to read the article now and not stop crying while an avalanche of emotions and memories destroyed me internally. When you look back you realize that all these events marked your personality and left a painful mark ".
With these new cases of abuse, the total of those known to the Spanish clergy rises to 353 with 883 victims, according to the accounting kept by EL PAÍS, in the absence of official data or the Church, which continues to refuse to investigate it.
If you know of any case of sexual abuse that has not seen the light of day, write us with your complaint to [email protected]